Jun 17, 2021
Should You Invest in Cryptocurrencies?
Cryptocurrency Background
Before reading, our compliance team wanted me to emphasize that I am not an expert in cryptocurrencies and that nothing in here should be taken as investment advice. This is meant to be educational. Please do your own due diligence before investing.
In broad terms, cryptocurrencies are a new type of asset that can be programmed into a computer. Cryptocurrencies are stored in "digital wallets" on a holder's computer, phone, or in the cloud. The wallet serves as a virtual bank account that enables holders to pay for goods and services or store the currency in hopes of an increase in value.
Blockchain is the underlying technology that powers many cryptocurrencies. This exciting innovation can provide an easier and more efficient way to handle financial transactions. It is already in use by many financial institutions today.
Bitcoin became the first cryptocurrency in 2009. In the decade-plus since, Bitcoin and other cryptocurrencies have gone through all the classic phases of a disruptive technology: massive bull markets and severe pullbacks, periods of euphoria and moments of despair, FOMO (fear of missing out), and everything in between.
Bitcoin is perhaps the most famous cryptocurrency, but there are more than 6,700 cryptocurrencies (1). Some of them are scams and jokes, but some have actual technological developments that meaningfully add to the ecosystem. For example, some compelling arguments favor cryptocurrency supporting new technologies, such as smart contracts and more efficient financial transactions with built-in encryption.
Because cryptocurrencies are designed to be decentralized, there is no central authority that controls the money supply or anything else about them. The monetary policy of each cryptocurrency is baked into the specific design of the cryptocurrency.
The amount of new development around cryptocurrencies has moved the technology forward, but it also means a lot is still unknown. We have no clue which of the thousands of cryptocurrencies the market will settle on or if it has even been created yet. As cryptocurrencies enter their second decade, one thing seems clear: Cryptocurrencies are not going away.
Characteristics of cryptocurrencies
Some believe so intensely in cryptocurrencies that any critique or viewpoint contrary to theirs evokes an almost hysterical reaction. On the other hand, others view cryptocurrencies as speculation run amok, with the end game destined to be painful.
Cryptocurrencies defy simple categorization. Each cryptocurrency is designed with a different protocol, so they are challenging to lump into one bucket. Bitcoin, for example, is not a traditional currency, commodity, or asset class. Some argue that it will protect investors if the U.S. dollar collapses and could even replace all fiat currencies someday. Others claim that it is a gold-like collectible, potentially acting as an inflation hedge. Some claim Bitcoin is a commodity because it does not produce anything in and of itself. Instead, the technology is used as an input in different parts of the economy.
However you view it, cryptocurrencies are not like companies. A company is actively trying to create economic value for its shareholders. Cryptocurrencies don't generate cash flows, such as dividends or interest, and aren't actively trying to create economic value for their owners. Their value depends mainly on widespread acceptance and ultimately what other investors are willing to pay. Cryptocurrencies have no intrinsic economic value.
Bitcoin proponents argue that the limited supply of bitcoin should help keep its price up. But while the supply of bitcoin itself is fixed; nothing is preventing competing cryptocurrencies from emerging. There are now thousands of different cryptocurrencies, with new ones created regularly.
Is it worth investing?
When considering any investment, it is crucial to consider one's goals. If your goal is to pay for future expenditures, then cash may be most fitting. If your goal is to grow your wealth, then stocks and bonds may be more appropriate as they have helped investors do just that for decades. Unfortunately, we do not know if the expected return on cryptocurrencies is positive, much less whether it will outperform other types of securities.
Still many investors believe cryptocurrencies are suited to meet their goals or are excited by the technology and thrill of speculation. For those investors, it's essential to consider what percentage cryptocurrencies will make up in your total portfolio. The total value of bitcoin in circulation is roughly half of a percent of the aggregate value of global stocks and bonds, so its weight in a diversified portfolio should be relatively small. The total value of all cryptocurrencies is around 1-2%. If you decide to invest, be aware that investment could go to zero and invest no more than you can afford to lose.
Much of the interest in cryptocurrencies is likely due to their phenomenal returns. For example, bitcoin was up over 160% in 2020 and has averaged 112% over the last seven years. There may be continued appreciation with the cryptocurrency space, but as with any new opportunity, there is substantial risk involved. For example, bitcoin's average intra-year decline has been 51.4% during this same period.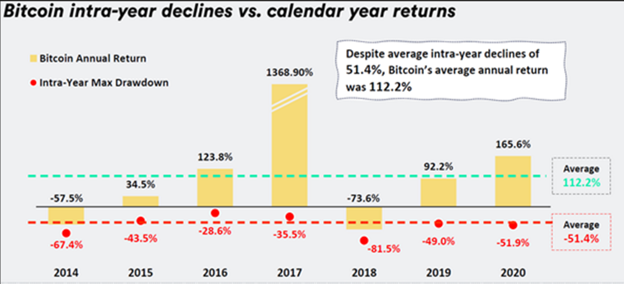 Some argue that bitcoin can serve as a store of value and a medium of exchange, similar to the U.S. dollar. However, it's only been around ten years, so it's difficult to know if it will act as a store of value, and its extreme volatility leads to skepticism around its use as a medium of exchange. Over the last three years (through 12/31/2020), bitcoin has been over four times as volatile as stocks and over 24 times as volatile as bonds (2)!

Risks to keep in mind
Cryptocurrencies represent exciting innovation within financial services, but there are still many uncertainties about the future of the technology and its returns. In addition, there are some risks associated with digital currencies, including:
Regulatory risk. Cryptocurrencies essentially compete with currencies issued by governments. At some point, governments may seek to regulate or restrict cryptocurrencies or issue a digital version of their currency. Such developments could adversely affect cryptocurrency prices.
Liquidity risk. Cryptocurrencies are unregulated, and no party is required to accept payments in virtual currency. As a result, particular market conditions might make it difficult or impossible to sell quickly at a reasonable price.
Volatility risk. Large fluctuations in price make cryptocurrencies a poor store of stable value.
Cybersecurity risk. Exchanges and platforms are subject to breaches. There have been several cases of theft or loss of access to their funds. A central authority doesn't control cryptocurrencies, so there is no one to contact for assistance.
Pricing risk. Cryptocurrencies trade in decentralized markets. In addition, cryptocurrency exchanges and platforms do not feature the regulations, controls, and investor protections available in traditional stock, options, and futures markets. There have also been concerns over market manipulation.
When reading the latest headline or experiencing FOMO from your friend of a friend who got rich quickly, consider your investing goals. Cryptocurrencies are only a decade old, and we don't know how they will fare going forward. Investing in cryptocurrency is a speculative endeavor. It has many risks and uncertainties. If you decide to invest, keep your overall allocation small and don't invest more than you can afford to lose.
Reach out to your advisor with any additional questions.
This article is not an offer to invest in cryptocurrencies. It is not specific investment advice and is intended to be educational. Please consult your tax, legal, and investment professional before investing. Investing in cryptocurrencies, either directly or indirectly, comes with significant risks. In particular, cryptocurrencies may have volatile market price swings, market manipulation, and regulatory, economic, technical, and cybersecurity risks. In addition, cryptocurrency markets and exchanges are not regulated with the same controls or customer protections available in equity, option, futures, or foreign exchange investing.
Leonard Rickey Investment Advisors, PLLC ("LRIA"), is an SEC registered investment adviser located in the State of Washington. Registration does not imply a certain level of skill or training. For information pertaining to the registration status of LRIA, please contact LRIA or refer to the Investment Adviser Public Disclosure website (www.adviserinfo.sec.gov).
This is provided for general information only and contains information that is not suitable for everyone. As such, nothing herein should be construed as the provision of specific investment advice or recommendations for any individual. To determine which investments may be appropriate for you, consult your financial advisor prior to investing. There is no guarantee that the views and opinions expressed herein will come to pass. This newsletter contains information derived from third party sources. Although we believe these third-party sources to be reliable, we make no representations as to the accuracy or completeness of any information prepared by any unaffiliated third party incorporated herein and take no responsibility therefore.
Any projections, forecasts and estimates, including without limitation any statement using "expect" or "believe" or any variation of either term or a similar term, contained here are forward-looking statements and are based upon certain current assumptions, beliefs and expectations that LRIA considers reasonable or that the applicable third parties have identified as such. Forward-looking statements are necessarily speculative in nature, and it can be expected that some or all of the assumptions or beliefs underlying the forward-looking statements will not materialize or will vary significantly from actual results or outcomes. Some important factors that could cause actual results or outcomes to differ materially from those in any forward-looking statements include, among others, changes in interest rates and general economic conditions in the U.S. and globally, changes in the liquidity available in the market, change and volatility in the value of the U.S. dollar, market volatility and distressed credit markets, and other market, financial or legal uncertainties. Consequently, the inclusion of forward-looking statements herein should not be regarded as a representation by LRIA or any other person or entity of the outcomes or results that will be achieved by following any recommendations contained herein. While the forward-looking statements here reflect estimates, expectations and beliefs, they are not guarantees of future performance or outcomes. LRIA has no obligation to update or otherwise revise any forward-looking statements, including any revisions to reflect changes in economic conditions or other circumstances arising after the date hereof or to reflect the occurrence of events (whether anticipated or unanticipated), even if the underlying assumptions do not come to fruition. Opinions expressed herein are subject to change without notice and do not necessarily take into account the particular investment objectives, financial situations, or particular needs of all investors.
For additional information about LRIA, including fees and services, please contact us for our Form ADV disclosure brochure using our contact information herein. Please read the disclosure brochure carefully before you invest or send money.