Oct 17, 2023
Employee Spotlight: Chelsie Smith
This month we are featuring Chelsie Smith. Chelsie is a Certified Financial Planner (CFP®) and Advisor at Leonard Rickey. She has been with us for almost 5 years and works in our Yakima Office.
What do you love most about your job?
I love being able to put a client's mind at ease when they have questions or concerns.
What would your perfect weekend look like?
Heading up to the mountains with my husband, daughters, dogs, sisters, nephews, and anyone else who tags along. Spending the day in the water or playing board games and eating lots of good meals in between all of that!
Share a picture of something that is important to you.
My family – my husband Kelly, my step-daughter Sophia and our daughter Rylee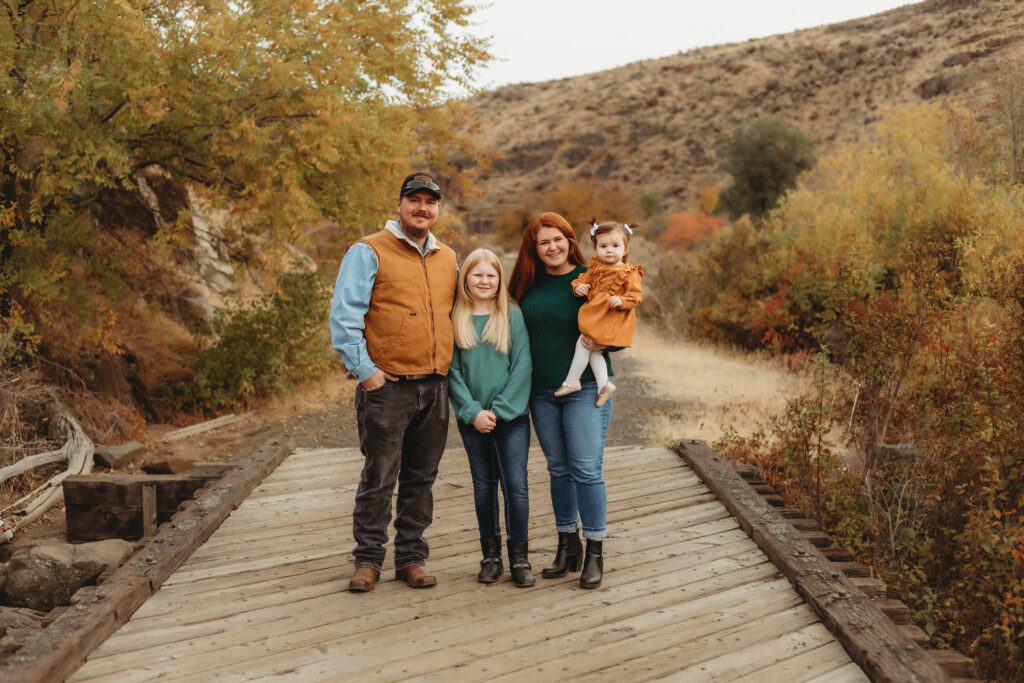 Describe an interesting hobby or pastime that you have.
I play pool every week in women's leagues or mixed doubles leagues. We have a table at home now too.
What movie genres interest you the most?
Musicals are my favorite genre, but I also enjoy a good superhero movie or rom-com depending on my mood.
What was the last TV show you binge-watched?
Bones
Do you have a favorite holiday? Why or why not?
Christmas because I love giving gifts. I don't even need to receive gifts; I just love knowing I picked the perfect gift for someone.
What's your favorite board game?
This is a tough one because we have so many. I'd have to go with the classic Scrabble or Life.
How do you take your coffee?
With French vanilla creamer but if I really need a boost, I'll just drink a Red Bull.
What's the best concert you've ever been to?
Guns N Roses at the Gorge
What are some of your favorite travel/vacation memories?
Every summer since I was about 10 until age 18, my grandma took me and my sisters to my great aunt's house. She had about 500 acres with 25 horses and a bunch of cattle. We swam in the ponds, took long trail rides, rode four-wheelers, barbequed, and stayed in their country log cabin style home. It was like a resort for a kid.
Leonard Rickey Investment Advisors, PLLC ("LRIA"), is an SEC registered investment adviser located in the State of Washington. Registration does not imply a certain level of skill or training. For information pertaining to the registration status of LRIA, please contact LRIA or refer to the Investment Adviser Public Disclosure website (www.adviserinfo.sec.gov).
This is provided for general information only and contains information that is not suitable for everyone. As such, nothing herein should be construed as the provision of specific investment advice or recommendations for any individual. To determine which investments may be appropriate for you, consult your financial advisor prior to investing. There is no guarantee that the views and opinions expressed herein will come to pass. This newsletter contains information derived from third party sources. Although we believe these third-party sources to be reliable, we make no representations as to the accuracy or completeness of any information prepared by any unaffiliated third party incorporated herein and take no responsibility therefore.
Any projections, forecasts and estimates, including without limitation any statement using "expect" or "believe" or any variation of either term or a similar term, contained here are forward-looking statements and are based upon certain current assumptions, beliefs and expectations that LRIA considers reasonable or that the applicable third parties have identified as such. Forward-looking statements are necessarily speculative in nature, and it can be expected that some or all of the assumptions or beliefs underlying the forward-looking statements will not materialize or will vary significantly from actual results or outcomes. Some important factors that could cause actual results or outcomes to differ materially from those in any forward-looking statements include, among others, changes in interest rates and general economic conditions in the U.S. and globally, changes in the liquidity available in the market, change and volatility in the value of the U.S. dollar, market volatility and distressed credit markets, and other market, financial or legal uncertainties. Consequently, the inclusion of forward-looking statements herein should not be regarded as a representation by LRIA or any other person or entity of the outcomes or results that will be achieved by following any recommendations contained herein. While the forward-looking statements here reflect estimates, expectations and beliefs, they are not guarantees of future performance or outcomes. LRIA has no obligation to update or otherwise revise any forward-looking statements, including any revisions to reflect changes in economic conditions or other circumstances arising after the date hereof or to reflect the occurrence of events (whether anticipated or unanticipated), even if the underlying assumptions do not come to fruition. Opinions expressed herein are subject to change without notice and do not necessarily take into account the particular investment objectives, financial situations, or particular needs of all investors.
For additional information about LRIA, including fees and services, please contact us for our Form ADV disclosure brochure using our contact information herein. Please read the disclosure brochure carefully before you invest or send money.