May 19, 2021
What is ESG Investing?
Investors are increasingly aware of how certain business practices may potentially affect the environment and how that may impact future generations. As citizens, individuals can express their political preferences around sustainability through the ballot box. As investors, they also can express their preferences through their investments by allocating capital to companies that better align with their views. Broadly speaking, Environmental, Social, and Governance (ESG) investing is a type of investment approach that considers sustainable factors in portfolio selection and management. ESG investing has gone from being a specialized focus for a narrow subset of investors to mainstream. For example, in the past five quarters, ESG fund flows have averaged nearly $12 billion per quarter, far more than had been the prior norm.(1)
While not the definitive list, here is an example of certain ESG factors: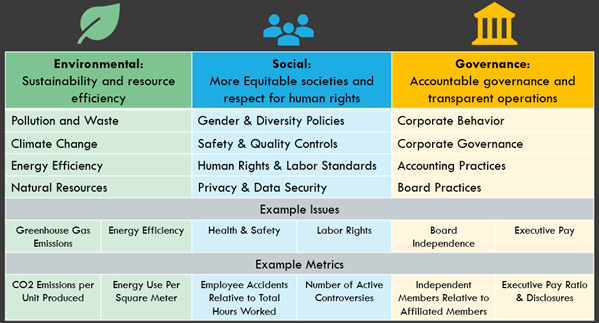 The definition of sustainable investing has changed over the years from excluding "bad" companies to proactively investing in "good" companies with certain sustainable goals (i.e. lower carbon footprint, more diversity in the work place, etc.). The older way of sustainable investing excluded companies from the portfolio for certain moral or ethical issues like alcohol, tobacco, gambling and fossil fuels. Companies that many investors think of as "good" were never specifically included.
That model has changed. By proactively investing in companies with "good" behaviors investors are trying to change the behavior of companies. Sustainable investors value companies not only from a profitability perspective, but also based on the practices that companies incorporate in their business. Many believe that sustainability factors are important, in large part because they have a bearing on how successful a company will be in the long-term.
Whether it is low-carbon air travel, vertical farming in high-rise structures, or zero-waste buildings and cities, sustainable businesses have the potential to create products and services that transform the way we live. Sustainable investing can be a powerful way to mobilize capital toward positive impacts.
ESG Investment Strategies
There is no universal answer to what makes a company or portfolio more sustainable than the next. There are many direct and proactive ways for investors to achieve positive impacts. We incorporate a variety of ESG investment strategies into portfolios including ESG integration, screening (both inclusionary and exclusionary), thematic investing, impact investing and active ownership.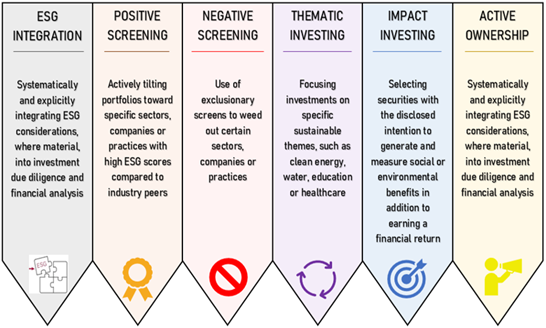 Our ESG Investment Philosophy
Our portfolios start with sound investment principles and are built using broadly diversified investment strategies. We then overlay ESG considerations.
We emphasize broad diversification across countries, industries, and companies.
We emphasize low costs and tax efficiency.
We place an equal importance on performance and sustainability scores.
We use both passive and active management.
We select strategies that employ a range of ESG investment strategies
We utilize Sustainalytics and Morningstar which rate individual companies one by one to identify company-level ESG scores. Ratings measure how well the companies in a portfolio are managing their environmental, social, and governance (ESG) risks and opportunities. A mutual fund or exchange traded fund (ETF) can then be rated by the underlying ratings of the companies it holds. These methods give a company a score, which can be used along with other data points when evaluating an individual positions, a fund, or an entire portfolio.
We have three main strategies:
Broad based ESG: We integrate E, S & G factors into one portfolio using ETF's and mutual funds. We leverage Morningstar to screen for funds and ETFS that have an above average Sustainability Rating. We also screen for companies that rank highly on carbon solutions. For example, our intent is not 0% exposure to energy companies, but instead to own the energy companies that are actively working toward carbon solutions.
Environmental focus: We focus specifically on environmental factors using ETF's and mutual funds. We leverage Morningstar to screen for funds and ETFS that have an above average Environmental Rating. We also screen for companies that rank highly on carbon solutions. For example, our intent is not 0% exposure to energy companies, but instead to own the energy companies that are actively working toward carbon solutions.
Customized ESG solution: Customized portfolio based on your specific values using individual stocks, ETF's and mutual funds. We can exclude specific companies and/or industries to better align your values and investments.
Although ESG data has improved a lot over the recent years, there is still lack of robust ESG data from companies. Standardized metrics are just beginning to be used but aren't fully-fledged yet and there are no requirements for companies to disclose their sustainable behaviors and associated risks. In addition, there is inconsistent methodologies by ESG data providers which can lead to inconsistent company ESG ratings.
Will ESG Investment Performance Suffer?
Research is starting to suggest a connection between corporate sustainability performance and financial performance. A 2014 Harvard study, for example, found that "High Sustainability" companies significantly outperformed "Low Sustainability" companies over the long term. The authors noted that "the integration of [sustainability] issues into a company's business model and strategy may be a source of competitive advantage for a company in the long run. A more engaged workforce, greater transparency, a more collaborative community, and a better ability to innovate may all be contributing factors" (2).
In addition, recent research is converging on the finding that ESG investing can help investors weather market volatility even better than traditional funds. Morgan Stanley, using Morningstar data from over 10,000 funds between 2004–2018, found that ESG-focused funds not only provided returns in line with comparable traditional funds, but exhibited reduced downside risk. Intuitively, it makes sense that companies with good governance, resilient supply chains, and environmentally sustainable business practices would be best positioned to weather downturns.
We don't have to rely on studies though. Real world results of the MSCI USA ESG Select Index versus the MSCI USA shows minimal performance differences. In general, we think that returns won't be affected one way or the other.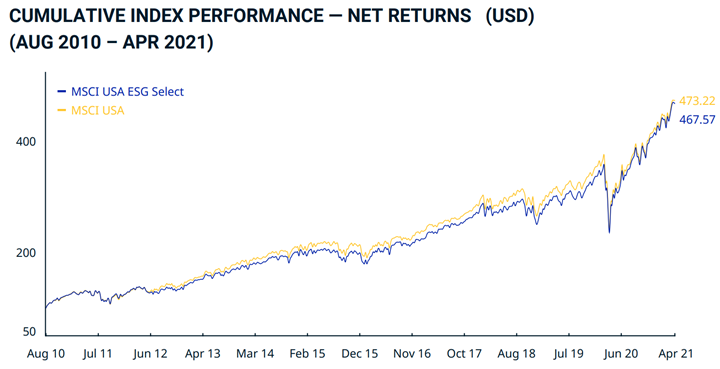 Please contact us if you would like to learn more about our sustainable portfolios. 
(1) Dimensional Fund Advisors
(2) "The Impact of Corporate Sustainability on Organizational Processes and Performance"
Index Definitions: The MSCI USA ESG Select Index is designed to target companies with positive environmental, social and governance (ESG) factors while exhibiting risk and return characteristics similar to those of the MSCI USA Index. The index is constructed through an optimization process that aims to maximize its exposure to ESG factors, subject to an expected tracking error of 1.8% and other constraints. It is sector-controlled and is designed to over-weight companies with high ESG ratings and under-weight companies with low ratings. Tobacco and Controversial Weapons companies, as well as major producers of Alcohol, Gambling, Firearms, Military Weapons and Nuclear Power, are not eligible for inclusion.
The MSCI USA Index is designed to measure the performance of the large and mid-cap segments of the US market. With 620 constituents, the index covers approximately 85% of the free float-adjusted market capitalization in the US.
Leonard Rickey Investment Advisors, PLLC ("LRIA"), is an SEC registered investment adviser located in the State of Washington. Registration does not imply a certain level of skill or training. For information pertaining to the registration status of LRIA, please contact LRIA or refer to the Investment Adviser Public Disclosure website (www.adviserinfo.sec.gov).
This is provided for general information only and contains information that is not suitable for everyone. As such, nothing herein should be construed as the provision of specific investment advice or recommendations for any individual. To determine which investments may be appropriate for you, consult your financial advisor prior to investing. There is no guarantee that the views and opinions expressed herein will come to pass. This newsletter contains information derived from third party sources. Although we believe these third-party sources to be reliable, we make no representations as to the accuracy or completeness of any information prepared by any unaffiliated third party incorporated herein and take no responsibility therefore.
Any projections, forecasts and estimates, including without limitation any statement using "expect" or "believe" or any variation of either term or a similar term, contained here are forward-looking statements and are based upon certain current assumptions, beliefs and expectations that LRIA considers reasonable or that the applicable third parties have identified as such. Forward-looking statements are necessarily speculative in nature, and it can be expected that some or all of the assumptions or beliefs underlying the forward-looking statements will not materialize or will vary significantly from actual results or outcomes. Some important factors that could cause actual results or outcomes to differ materially from those in any forward-looking statements include, among others, changes in interest rates and general economic conditions in the U.S. and globally, changes in the liquidity available in the market, change and volatility in the value of the U.S. dollar, market volatility and distressed credit markets, and other market, financial or legal uncertainties. Consequently, the inclusion of forward-looking statements herein should not be regarded as a representation by LRIA or any other person or entity of the outcomes or results that will be achieved by following any recommendations contained herein. While the forward-looking statements here reflect estimates, expectations and beliefs, they are not guarantees of future performance or outcomes. LRIA has no obligation to update or otherwise revise any forward-looking statements, including any revisions to reflect changes in economic conditions or other circumstances arising after the date hereof or to reflect the occurrence of events (whether anticipated or unanticipated), even if the underlying assumptions do not come to fruition. Opinions expressed herein are subject to change without notice and do not necessarily take into account the particular investment objectives, financial situations, or particular needs of all investors.
For additional information about LRIA, including fees and services, please contact us for our Form ADV disclosure brochure using our contact information herein. Please read the disclosure brochure carefully before you invest or send money.