Apr 15, 2021
Spring Clean Your Documents
With Shred Day approaching and in the spirit of spring cleaning, we wanted to share some tips on organizing your files. Remember to dispose of your documents securely. Below is a summary of the key documents to keep and for how long:
Income Tax Returns: Keep at least three years of state and federal tax returns and supporting documentation on file. Supporting documentation includes records that prove any income, deductions (including medical expenses), or credits claimed (W-2, 1099, end-of-year statements from banks and investment accounts). Depending on the state (like CA), you may need to keep tax returns for longer than three years. If you think you forgot to report income and it's more than 25% of your gross income, keep six years of tax returns. If you are claiming a loss for worthless securities or bad debt deduction, keep records for seven years.
Gift Tax Returns: Keep all 709s that you file, and any 8971s or 706s issued to you, along with any supporting documentation in your permanent records.
Investment and Bank Accounts: Consider keeping the most current statements on file and the end-of-year statement until you complete your tax return.
Retirement Accounts: Consider keeping documentation on any contributions, withdrawals, and conversions. If you made non-deductible traditional IRA contributions, keep Form 8606 until the account is fully withdrawn to track cost basis.
Debt (student loans, mortgage): Keep the loan documents until the loan is paid off. Once the loan is paid off, keep documentation proving that the loan has been paid in full.
Property (automobiles, real estate): Consider keeping any deeds, titles, settlement statements, or bills of sale until you sell the property. Keep documentation showing purchase-related fees that were capitalized until you sell the property.
Home improvements: Keep any receipts related to home improvements as they may be used to substantiate any adjustments to the cost basis for your property.
Insurance policies: Keep the most current policies on file.
Legal Documents: Keep a copy of your Social Security card, birth certificate, passport, marriage certificate, prenuptial agreement, divorce paperwork, military discharge papers and employment contracts, as applicable.
Estate plan: Keep a copy of your Will, Trust(s), Powers of Attorney (General and Healthcare), Living Will or Healthcare Directive, and beneficiary designations on file, and store the originals in a safe place. Also, consider giving copies to people that play an important role in your estate plan, such as your agents, Executor(s) and Trustee(s).
It's a good idea to make electronic copies of your important documents in case something happens to your paper files. Many of these documents like tax returns, supporting documentation, investment statements, bank statements, retirement statements as well as home improvement records can be stored electronically as long as they can be easily brought back up and are legible. Legal documents and estate planning documents should be kept both in paper and electronic format. Make sure your electronic documents are stored securely and backed up either on another device or the cloud.
Reminder: Shred & Meds Day is coming up and is the perfect time to get rid of those unneeded documents!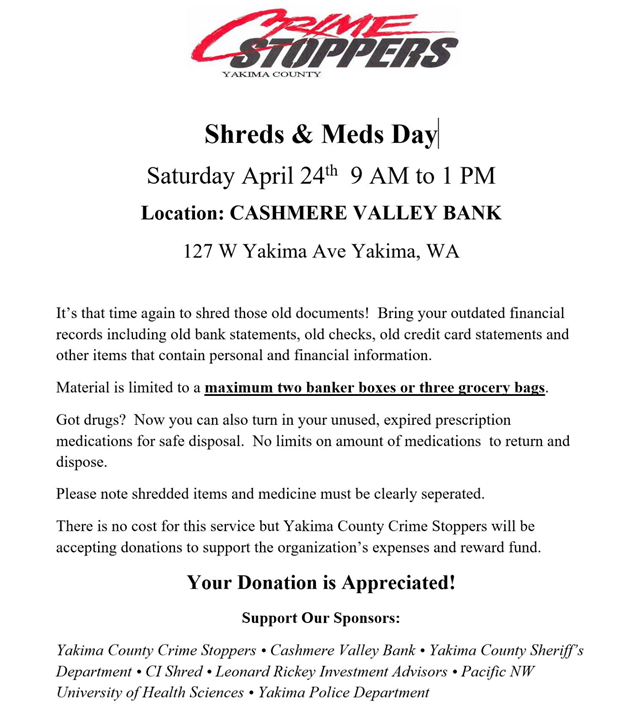 Leonard Rickey Investment Advisors, PLLC ("LRIA"), is an SEC registered investment adviser located in the State of Washington. Registration does not imply a certain level of skill or training. For information pertaining to the registration status of LRIA, please contact LRIA or refer to the Investment Adviser Public Disclosure website (www.adviserinfo.sec.gov).
This is provided for general information only and contains information that is not suitable for everyone. As such, nothing herein should be construed as the provision of specific investment advice or recommendations for any individual. To determine which investments may be appropriate for you, consult your financial advisor prior to investing. There is no guarantee that the views and opinions expressed herein will come to pass. This newsletter contains information derived from third party sources. Although we believe these third-party sources to be reliable, we make no representations as to the accuracy or completeness of any information prepared by any unaffiliated third party incorporated herein and take no responsibility therefore.
Any projections, forecasts and estimates, including without limitation any statement using "expect" or "believe" or any variation of either term or a similar term, contained here are forward-looking statements and are based upon certain current assumptions, beliefs and expectations that LRIA considers reasonable or that the applicable third parties have identified as such. Forward-looking statements are necessarily speculative in nature, and it can be expected that some or all of the assumptions or beliefs underlying the forward-looking statements will not materialize or will vary significantly from actual results or outcomes. Some important factors that could cause actual results or outcomes to differ materially from those in any forward-looking statements include, among others, changes in interest rates and general economic conditions in the U.S. and globally, changes in the liquidity available in the market, change and volatility in the value of the U.S. dollar, market volatility and distressed credit markets, and other market, financial or legal uncertainties. Consequently, the inclusion of forward-looking statements herein should not be regarded as a representation by LRIA or any other person or entity of the outcomes or results that will be achieved by following any recommendations contained herein. While the forward-looking statements here reflect estimates, expectations and beliefs, they are not guarantees of future performance or outcomes. LRIA has no obligation to update or otherwise revise any forward-looking statements, including any revisions to reflect changes in economic conditions or other circumstances arising after the date hereof or to reflect the occurrence of events (whether anticipated or unanticipated), even if the underlying assumptions do not come to fruition. Opinions expressed herein are subject to change without notice and do not necessarily take into account the particular investment objectives, financial situations, or particular needs of all investors.
For additional information about LRIA, including fees and services, please contact us for our Form ADV disclosure brochure using our contact information herein. Please read the disclosure brochure carefully before you invest or send money.