Aug 23, 2021
Investment Question of the Month: What are some of the differences between ETFs and mutual funds?
Mutual funds and exchange traded funds (ETFs) are arguably more similar than different. Both investment funds are registered with the SEC under the Investment Company Act of 1940 (40 Act), and most of the rules under the 40 Act apply to both. Both structures offer investors a way to pool their money in a fund that makes investments in stocks, bonds, or other assets and, in return, to receive an interest in that investment pool. The pooling of money into investment strategies has become so popular that there are more mutual funds and ETFs than individual equities that trade [1].
Many mutual funds and ETFs have similar and sometimes even identical investment strategies. For example, there are many ETFs and mutual funds that track the same index. As a result, their holdings are identical, with the only difference being one is structured as an ETF and the other as a mutual fund.
As of September 2020, the vast majority of ETF assets followed indexing strategies, where the manager is trying to track a specific index. While many mutual funds also track a particular index, most assets are in strategies that take active bets to try to outperform an index (See chart below) [2].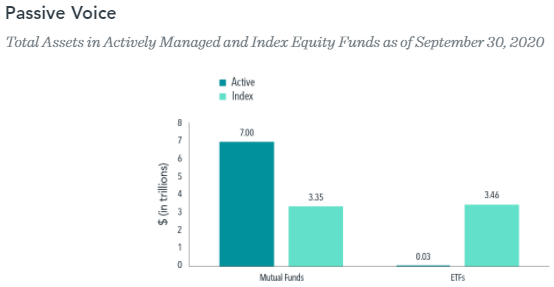 While the strategies and underlying assets can be the same, the differences in the structure set them apart. These differences include how they are accessed and priced, rebalancing, tax management, the costs involved, and holdings disclosures, to name a few.
Access and Price
• Mutual funds are bought and sold directly with the fund manager once daily (at the end of each business day). As a result, investors in mutual funds invest and redeem only at the net asset value (NAV), easing clients' concerns about whether their trading processes result in good execution prices.
• ETF shares are traded on a national stock exchange. They can be bought and sold throughout the day and at market prices that may be at a premium (above the NAV) or discount (below the NAV), leading to investors receiving different execution prices.
Rebalancing
• When it comes to ETF management, portfolio managers have two tools at their disposal to rebalance the underlying portfolio. The first process is to buy and sell securities directly for the portfolio.
• ETF managers can also rebalance through the in-kind creation and redemption process facilitated through an authorized participant (AP). For example, in the case of ETF creation activity, the ETF manager issues creation units of ETF shares to the AP in exchange for a "basket" of securities and cash. Similarly, the ETF can redeem creation units in exchange for a basket of securities and cash.
• ETFs have the flexibility to provide to APs "custom baskets," or baskets that do not mirror the exact underlying holdings and weights of the ETF portfolio. By using custom baskets to increase and decrease specific portfolio holdings, ETF managers can use the in-kind creation/redemption process as a tax-efficient way to rebalance.
• Mutual funds generally buy and sell securities directly. While in-kind redemptions are also available to mutual funds, they are seldom used.
Tax Management
• Tax efficiency is an essential consideration for many investors. The tax efficiency of any portfolio is strongly related to the investment approach. More broadly diversified and lower turnover funds have a higher degree of tax efficiency relative to less diversified strategies with higher turnover.
• ETFs generally have better tax efficiency, given all else equal. In an ETF, when an AP redeems creation units in exchange for a basket of securities, those securities are redeemed in-kind out of the ETF. This in-kind redemption means the ETF can reduce its securities holdings without triggering a capital gains distribution. As a result, ETFs are primarily able to limit capital gains distributions to zero or close to zero.
• Investors in an ETF may instead eventually pay a gain upon selling shares of the ETF itself. As a result, investors in ETFs have greater control over the timing of capital gains, although the value of this flexibility depends on the particular investor's circumstances.
Costs
• Both vehicles charge an expense ratio, which accounts for the management fee and other administrative costs.
• Investors typically pay a transaction fee when buying or selling mutual funds. In contrast, many brokerage platforms now charge low or sometimes no fees to buy or sell ETFs.
• An ETF is listed directly on an exchange, so investors may incur a bid-ask spread and price impact in secondary market transactions, just as one would when buying or selling an individual stock. If there is excess demand or supply of ETF shares, resulting in a premium or discount to NAV, APs can create or redeem ETF shares in an in-kind process. The trading costs incurred by the APs in the creation/redemption process are borne by the investor who initiates the trading activity, rather than being shared across the investors in the fund. This is one reason some perceive ETFs as a better structure because investors do not impose trading costs externalities across other investors.
Holdings Disclosure
• ETFs and mutual funds also differ in how frequently holdings are required to be publicly disclosed. Most ETFs are fully transparent, meaning they disclose their holdings on a daily basis with a one-day lag. By comparison, most mutual funds are generally required to publish holdings with a 30-day lag.
Both mutual funds and ETFs offer investors a way to pool their money into a fund managed by a third party. The decision to use one over the other can impact cost, tax efficiency, and transparency. There are pros and cons to each type, which we carefully consider before making investment decisions.
Please contact us if you would like to know more.
[1] "What Happens with More Funds than Stocks?" Madhaven, Sobczyk, Ang. 10/7/2019
[2] Dimensional Fund Advisors, January 2021
Leonard Rickey Investment Advisors, PLLC ("LRIA"), is an SEC registered investment adviser located in the State of Washington. Registration does not imply a certain level of skill or training. For information pertaining to the registration status of LRIA, please contact LRIA or refer to the Investment Adviser Public Disclosure website (www.adviserinfo.sec.gov).
This is provided for general information only and contains information that is not suitable for everyone. As such, nothing herein should be construed as the provision of specific investment advice or recommendations for any individual. To determine which investments may be appropriate for you, consult your financial advisor prior to investing. There is no guarantee that the views and opinions expressed herein will come to pass. This newsletter contains information derived from third party sources. Although we believe these third-party sources to be reliable, we make no representations as to the accuracy or completeness of any information prepared by any unaffiliated third party incorporated herein and take no responsibility therefore.
Any projections, forecasts and estimates, including without limitation any statement using "expect" or "believe" or any variation of either term or a similar term, contained here are forward-looking statements and are based upon certain current assumptions, beliefs and expectations that LRIA considers reasonable or that the applicable third parties have identified as such. Forward-looking statements are necessarily speculative in nature, and it can be expected that some or all of the assumptions or beliefs underlying the forward-looking statements will not materialize or will vary significantly from actual results or outcomes. Some important factors that could cause actual results or outcomes to differ materially from those in any forward-looking statements include, among others, changes in interest rates and general economic conditions in the U.S. and globally, changes in the liquidity available in the market, change and volatility in the value of the U.S. dollar, market volatility and distressed credit markets, and other market, financial or legal uncertainties. Consequently, the inclusion of forward-looking statements herein should not be regarded as a representation by LRIA or any other person or entity of the outcomes or results that will be achieved by following any recommendations contained herein. While the forward-looking statements here reflect estimates, expectations and beliefs, they are not guarantees of future performance or outcomes. LRIA has no obligation to update or otherwise revise any forward-looking statements, including any revisions to reflect changes in economic conditions or other circumstances arising after the date hereof or to reflect the occurrence of events (whether anticipated or unanticipated), even if the underlying assumptions do not come to fruition. Opinions expressed herein are subject to change without notice and do not necessarily take into account the particular investment objectives, financial situations, or particular needs of all investors.
For additional information about LRIA, including fees and services, please contact us for our Form ADV disclosure brochure using our contact information herein. Please read the disclosure brochure carefully before you invest or send money.