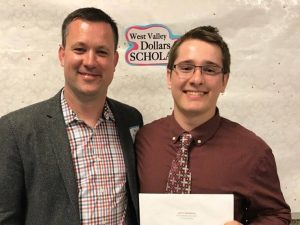 Ben Rickey was honored to present our first annual Leonard Rickey Founders Scholarship through the West Valley Dollars for Scholars at West Valley High School in May.  Leonard was one of the founding members of the West Valley Dollars for Scholars in 1994. This years recipient is Jack Warren.
At the event, WVDFS awarded just under $60,000 in scholarships to youth in our community. The scholarship recipients were selected by the board with the help of class ranking, teacher appraisal, community activities and two short essays. It is a great organization to empower kids with the resources needed to tackle higher education.
We are proud to partner with this great organization and happy for our first recipient. Congratulations for your hard work and best of luck in your future endeavors!