The S&P 500 broke above its two year trading range in July
Stocks posted positive gains, led by non-U.S. stocks
Elections typically don't have long-term effects on markets however they do bring short-term uncertainty
We don't invest in Presidents. We invest in companies. The fundamentals of those companies matter the most in the long run
Market Summary
Risk assets performed well in the 3rd quarter, led by emerging markets and U.S. small cap stocks. U.S. large cap stocks, as measured by the S&P 500, broke out of their broad trading range to reach new all-time highs. Bond returns were close to flat during the quarter as yields stayed relatively flat during the quarter.
In this quarterly recap we will briefly look at the last quarter and we will then spend the remaining time addressing the election's impact on the markets and your investments.
US Large Stocks

(S&P 500 TR)

US Small Stocks

(Russell 2000 TR)

International

(MSCI EAFE)

Emerging Markets

(MSCI EM)

US Bonds

(Barclays US Agg Bond TR)

3rd Quarter 2016
3.85%
9.05%
6.43%
9.03%
.46%
1yr annualized*
15.43%
15.47%
6.52%
16.78%
5.19%
3yr annualized*
11.16%
6.71%
.48%
-.56%
4.03%
5yr annualized*
16.37%
15.82%
7.39%
3.03%
3.08%
10yr annualized*
7.24%
7.07%
1.82%
3.95%
4.79%
Through September 30, 2016. All returns are in U.S. dollars. Source: Morningstar
S&P 500 Breaks Out of Broad Trading Range
After the first quarter we wrote that "we have yet to break through the neutral trading range of the last year". We then saw the S&P 500 briefly break above its trading range during the second quarter before promptly falling back inside the range. And then in July, the S&P 500 broker above its trading range again and finished the quarter above that range. The S&P 500 is now decidedly above that. Below is a chart of the S&P 500 since 2015. The yellow line shows the top end of the range and the red and black line show the price movements of the S&P 500[1].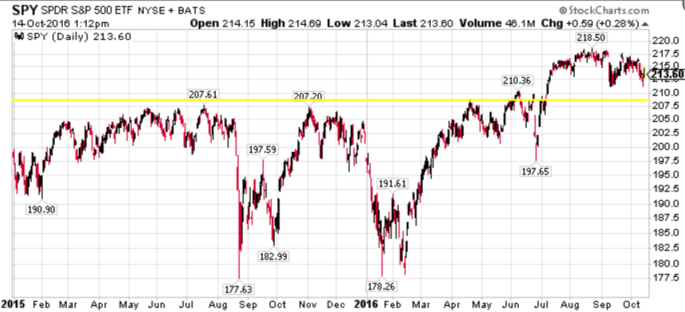 U.S. stocks vs Non-U.S. stocks
Non-U.S. exposure has hurt a diversified portfolio over the last five to ten years. However, we may be seeing a shift as non-U.S. equities have gained momentum year to date. In fact, this was the first time since Q1 of 2015 where both Emerging Market and International Developed equities outperformed U.S. equities[2]. We wrote last quarter that "Not only do non-U.S. stock provide diversification but their valuations are relatively better than U.S. stocks at this point in the cycle." We continue to believe this to be the case.
How do Presidential Elections affect my portfolio?
The answer – based on decades of historical data – is that presidential elections typically don't have a long-term effect on market performance. However, elections can have a short-term effect on markets mainly because markets don't like uncertainty. Stock market volatility tends to spike in a presidential election year but then dissipates shortly afterwards, returning to more normal levels once the uncertainty is gone.[3] So far this year, volatility hasn't exceeded normal levels for a presidential election year.
Many readers may want to credit or blame the president for stock market performance, but the truth is that their policies have little impact on stock market returns. Ultimately fundamentals – not elections – are the more important drivers of asset prices. Valuations, the health of corporate balance sheets, the level of interest rates, technology, demographics and the economy are some of the more important influences on market behavior.
Warren Buffet on Elections
In this year's letter to Berkshire Hathaway shareholders Warren Buffet had some wise words to say on elections. He wrote the following:
"It's an election year, and candidates can't stop speaking about our country's problems (which of course, only they can solve). As a result of the negative drumbeat, many Americans now believe that their children will not live as well as they themselves do. That view is dead wrong: The babies being born in America today are the luckiest crop in history.
American GDP per capita is a staggering six times the amount in 1930, the year I was born. All families in my upper middle-class neighborhood regularly enjoy a living standard better than that achieved by John D. Rockefeller Sr. at the time of my birth. His unparalleled fortune couldn't buy what we now take for granted. Rockefeller certainly had power and fame; he could not, however, live as well as my neighbors now do.
Though the pie to be shared by the next generation will be far larger than today's, how it will be divided will remain fiercely contentious. Just as is now the case, there will be struggles for the increased output of goods and services between those people in their productive years and retirees, between the healthy and the infirm, between the inheritors and the Horatio Algers, between investors and workers and, in particular, between those with talents that are valued highly by the marketplace and the equally decent hard-working Americans who lack the skills the market prizes. Clashes of that sort have forever been with us – and will forever continue. Congress will be the battlefield; money and votes will be the weapons. Lobbying will remain a growth industry.
The good news, however, is that even members of the "losing" sides will almost certainly enjoy – as they should – far more goods and services in the future than they have in the past. The quality of their increased bounty will also dramatically improve. Nothing rivals the market system in producing what people want – nor, even more so, in delivering what people don't yet know they want. My parents, when young, could not envision a television set, nor did I, in my 50s, think I needed a personal computer. Both products, once people saw what they could do, quickly revolutionized their lives. I now spend ten hours a week playing bridge online. And, as I write this letter, "search" is invaluable to me. (I'm not ready for Tinder, however.) For 240 years it's been a terrible mistake to bet against America, and now is no time to start. America's golden goose of commerce and innovation will continue to lay more and larger eggs. America's social security promises will be honored and perhaps made more generous. And, yes, America's kids will live far better than their parents did".[4]
Conclusion
If you are worried about a particularly party winning, it important to remember that we don't invest in presidents or governments, but corporations. Our system of divided government helps ensure that no one leader consolidates all power. Regardless of who wins, short-term developments are less important to your investment success than the big picture trends that will shape markets in the years ahead. So while we will be paying attention to the news, we will also continue to make sure that your portfolio is well diversified, that your investment costs are kept low and that you are on your best path forward.
IMPORTANT DISCLOSURES
Leonard Rickey Investment Advisors, PLLC ("LRIA"), is an SEC registered investment adviser located in the State of Washington. Registration does not imply a certain level of skill or training. For information pertaining to the registration status of LRIA, please contact LRIA or refer to the Investment Adviser Public Disclosure website (www.adviserinfo.sec.gov).
This newsletter is provided for general information only and contains information that is not suitable for everyone. As such, nothing herein should be construed as the provision of specific investment advice or recommendations for any individual. To determine which investments may be appropriate for you, consult your financial advisor prior to investing. All performance referenced is historical and is no guarantee of future results. All indices are unmanaged and cannot be invested into directly. Unmanaged index returns do not reflect fees, expenses, or sales charges. Index performance is not indicative of the performance of any investment.
Past performance is no guarantee of future results. Your experience may vary according to your individual circumstances and there can be no assurance that LRIA will be able to achieve similar results for all clients in comparable situations or that any particular strategy or investment will prove profitable.   As investment returns, inflation, taxes and other economic conditions vary, your actual results may vary significantly. There is no guarantee that the views and opinions expressed herein will come to pass. This newsletter contains information derived from third party sources. Although we believe these third party sources to be reliable, we make no representations as to the accuracy or completeness of any information prepared by any unaffiliated third party incorporated herein, and take no responsibility therefore.
Stock investing includes numerous specific risks including the fluctuations of dividend, loss of principal, and potential illiquidity of the investment in a falling market. International and emerging markets investing involves special risks such as currency fluctuation and political instability and may not be suitable for all investors. Small cap stocks may be subject to a higher degree of risk than more established companies' securities. The illiquidity of the small cap market may adversely affect the value of these investments. Information presented herein is subject to change without notice and should not be considered as a solicitation to buy or sell any security. This newsletter should not be regarded as a complete analysis of the subjects discussed.
Any projections, forecasts and estimates, including without limitation any statement using "expect" or "believe" or any variation of either term or a similar term, contained here are forward-looking statements and are based upon certain current assumptions, beliefs and expectations that LRIA considers reasonable or that the applicable third parties have identified as such. Forward-looking statements are necessarily speculative in nature, and it can be expected that some or all of the assumptions or beliefs underlying the forward-looking statements will not materialize or will vary significantly from actual results or outcomes. Some important factors that could cause actual results or outcomes to differ materially from those in any forward-looking statements include, among others, changes in interest rates and general economic conditions in the U.S. and globally, changes in the liquidity available in the market, change and volatility in the value of the U.S. dollar, market volatility and distressed credit markets, and other market, financial or legal uncertainties. Consequently, the inclusion of forward-looking statements herein should not be regarded as a representation by LRIA or any other person or entity of the outcomes or results that will be achieved by following any recommendations contained herein. While the forward-looking statements here reflect estimates, expectations and beliefs, they are not guarantees of future performance or outcomes. LRIA has no obligation to update or otherwise revise any forward-looking statements, including any revisions to reflect changes in economic conditions or other circumstances arising after the date hereof or to reflect the occurrence of events (whether anticipated or unanticipated), even if the underlying assumptions do not come to fruition. Opinions expressed herein are subject to change without notice and do not necessarily take into account the particular investment objectives, financial situations, or particular needs of all investors.
Bonds are subject to market and interest rate risk if sold prior to maturity. Bond values and yields will decline as interest rates rise and bonds are subject to availability and change in price. The risks associated with investment-grade corporate bonds are considered significantly higher than those associated with first-class government bonds. The difference between rates for first-class government bonds and investment-grade bonds is called investment-grade spread. The range of this spread is an indicator of the market's belief in the stability of the economy.
The fast price swings in commodities and currencies can result in significant volatility in an investor's holdings.
There is no assurance that the techniques and strategies discussed are suitable for all investors or will yield positive outcomes. The
Value investments can perform differently from the market as a whole. They can remain undervalued by the market for long periods of time.
The economic forecasts set forth in the presentation may not develop as predicted and there can be no guarantee that strategies promoted will be successful.
For additional information about LRIA, including fees and services, send for our disclosure statement as set forth on Form ADV using our contact information below. Please read the disclosure statement carefully before you invest or send money.
3908 Creekside Loop, Suite 100
Yakima, WA 98902
(800)-627-4340
INDEX DEFINITIONS
The Barclays Aggregate Bond Index represents securities that are SEC-registered, taxable, and dollar denominated. The index covers the U.S. investment-grade fixed rate bond market, with index components for government and corporate securities, mortgage pass-through securities, and asset-backed securities.
The Russell 2000 Index is an unmanaged index generally representative of the 2,000 smallest companies in the Russell Index, which represents approximately 10% of the total market capitalization of the Russell 3000 Index.
The Standard & Poor's 500 Index is a capitalization-weighted index of 500 stocks designed to measure performance of the broad domestic economy through changes in the aggregate market value of 500 stocks representing all major industries. It cannot be invested into directly.
The MSCI EM Index is a float-adjusted market capitalization index that consists of indices of approximately 800 stocks and is designed to measure equity market performance in 23 emerging economies: Brazil, Chile, China, Colombia, Czech Republic, Egypt, Greece, Hungary, India, Indonesia, Korea, Malaysia, Mexico, Morocco, Peru, Philippines, Poland, Qatar, Russia, South Africa, Taiwan, Thailand, and Turkey.
The MSCI EAFE (Europe, Australasia, Far East) Index is a free float-adjusted market capitalization index of approximately 900 stocks and is designed to measure equity market performance in 21 developed market countries outside of North America
[1] Created by LRIA using StockCharts.com
[2] Morningstar data
[3] Vanguard, based on data from Thomson Reuters, 2016.
[4] www.berkshirehathaway.com/letters